Christmas is always a busy time as there are so many great activities and festive events in Torquay. With lots to choose from, we've listed some of the best ones we can find, to really get the festivities started!
Come and experience a great day in Torquay town centre. Father Christmas arriving in Fleet Walk, on Thursday 4 November 2021. There will be no big celebrity "switch on", as the lights will appear when each trader switches on their lights. Once lit the town centre Christmas lights will stay lit for six weeks – 24 hours a day
Meet Santa & the elves in his Christmas winter wonderland grotto at Fleet Walk, Torquay. Sparkling festive, award-winning animated display. It will be open from Saturday 20 Nov – Friday 24 Dec 2021.
Celebrating its 30th year, Santa's Grotto is run by volunteers who give their time to help raise funds for local, Rotary charities. A popular family attraction for children and the young-at-heart. This year's event will follow the current Covid-19 guidelines to ensure the safety of all visitors. Please note that all attendees will be required to wear face masks and observe the regulation health and safety advice.
The Grotto will be operating an appointment system with advance ticket sales only. Our family tickets for up to six people include a tour of the grotto, a chat with Santa, one present for each child (up to a maximum of four children) BOOK & BUY TICKETS 
Torre Abbey will be hosting their 4th Winter Fest event from the 27 – 28 Nov 2021. The event will run from 10am till 5pm on both days
This year they will be hosting it in the stunning setting of the Spanish Barn as well as the in the house itself, as part of the Abbey Christmas programme of events. This charming event offers visitors the chance to buy a range of unique handmade Christmas gifts, as well as perhaps indulging in a glass of mulled wine. BOOK & BUY TICKETS 
Join us in 2021 for unique carols by candlelight in the underground world of Kents Cavern. A magical Christmas experience!
Due to popular demand, we are delighted to announce that Carols in the Caves is coming back in December 2021! Get into the festive spirit and join us for a magical Christmas concert.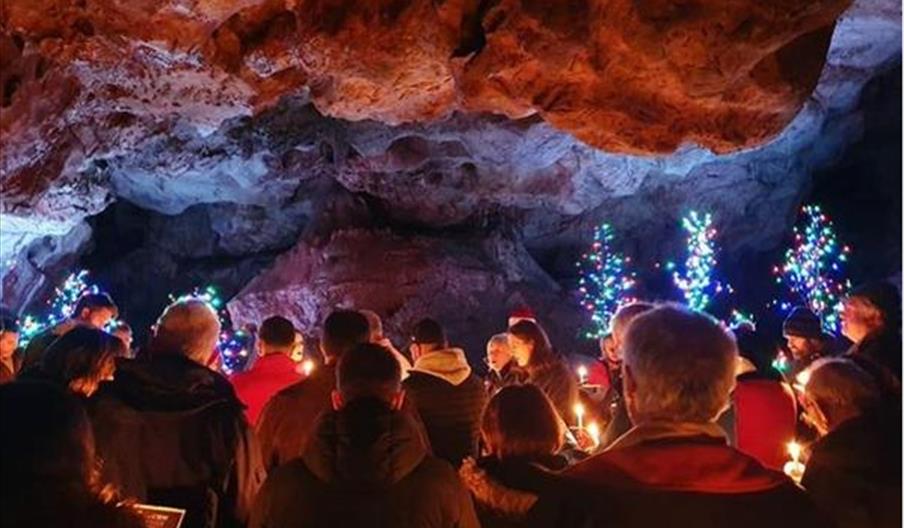 We're teaming up once again with the fantastic 'Yours In Harmony' to perform Christmas Carols and showcase festive songs underground. This unique festival experience lasts two hours.
Start seated in the Vestibule Chamber and hear the amazing acoustics of the choir and then take a walk around our magnificent cave system singing carols by candlelight. Finish with mulled wine/hot chocolate and festive treats in the Great Chamber!
Carols in the Caves takes place on 2, 9 & 16 Dec 2021 BUY TICKETS 
The world famous Band of Her Majesty's Royal Marines will present a military music spectacular featuring festive music, military marches, big band hits and popular showstoppers.
It's a musical treat not to be missed! This entertaining band delights audiences wherever they perform and their world-renowned Corps of Drums will demonstrate the precision, accuracy and skill for which they have become famous across the globe. BUY TICKETS 
Don't forget to check out our fantastic range of breaks over the Christmas and New Year period or why not celebrate Christmas early, with one of our Tinsel and Turkey breaks.